The first custom came out of necessity. I picked up all the ROC Joes in Reactive Armor, but I still needed Breaker to fill the gaps.
I was really going for a more simple approach with Breaker, so I didn't want to have to do a lot of mods or scratch building. Chad gave me the idea for the Destro webgear, and I found a modded Wet Suit helmet in my parts bin. Moved the straps and added a mic and it did the trick. The torso communications piece really turned out as a simple solution too. I removed the wrist clips and glued a styrene rod in place. I'm very pleased with this one.
Breaker: Rise of Cobra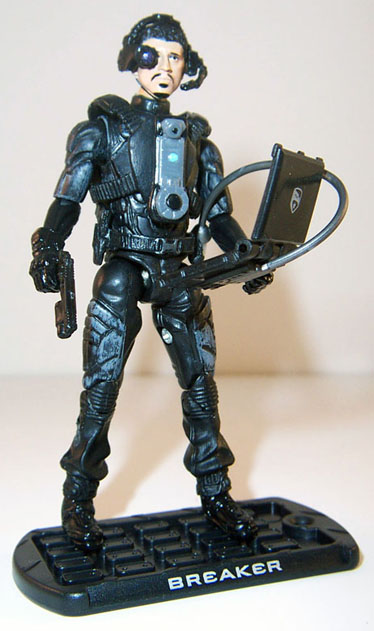 Next is Grandslam. Pretty simple custom here, just using Flash and painting all the armor silver. I've seen someone else use this head, and I really like it for Grandslam. I'm still not sold on Grandslam being a jetpack trooper though. For one, he went from being an artillery guy to being a jetpack trooper. Second, I really don't see the purpose for a jetpack trooper anymore, especially with Predator drones. That being said, I couldn't find a reason to make him without giving him a jetpack

Grandslam: Rise of Cobra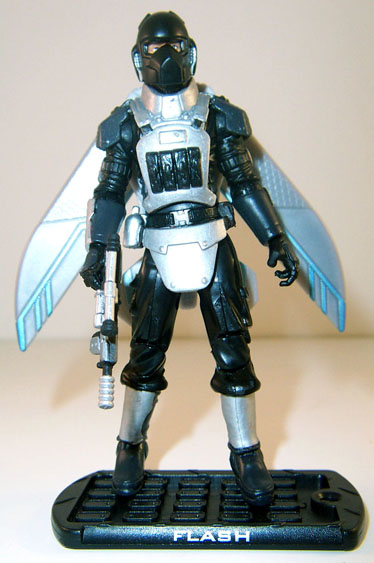 Lastly is Clutch. I've been working on a new VAMP for a while, and needed a driver. I started this thread a while back
http://www.joecustoms.com/forums/viewto ... 08&start=0
, and raptor said this:
If breaker can be Moroccan, Clutch could be a slick fashion model type Italian Ferrari race car driver - Like an Andretti.
He would be someone put there to make Ripcord feel insecure and inadequate about Scarlett's affections. She would flirt with him, but then assure "Rip" that it means nothing.

He could also tell "Rip", "I am going to steal your girlfriend..." over and over again just to be annoying.
I loved this characterization here, and this is what I came up with. I wanted his head to look Italian, and the bottom of his pants to look like racing coveralls. Added the holster to honor classic Clutch. I have a feeling that he will really have mixed reviews
Clutch: Rise of Cobra