I got to working on this one because someone on another board saw my MacGyver and asked where Murdoc was.

I took it as a challenge...and now I've got Mac's archnemesis all done. He had a couple of different looks in the series, but I went for the sleek black look of the later Murdoc eps, especially my favorite "Strictly Business." He was a little less crazed maniac and more calculating by then.

Anyway there's this kind of tongue in cheek scene at the beginning where he's disarming for a meeting with his employer and he's pulling guns and knives and brass knuckles and grenades and such out of all these hiding places. So my version has a pistol in the chest holster under the coat, a pistol and a couple of grenades in the pockets, a knife in his boot, and a throwing star. A new black coat will be arriving soon and when that comes, I'm going to add a knife in the back collar like in the ep and also maybe up his sleeve. The skull necklace is my nod to the skull ring he wore.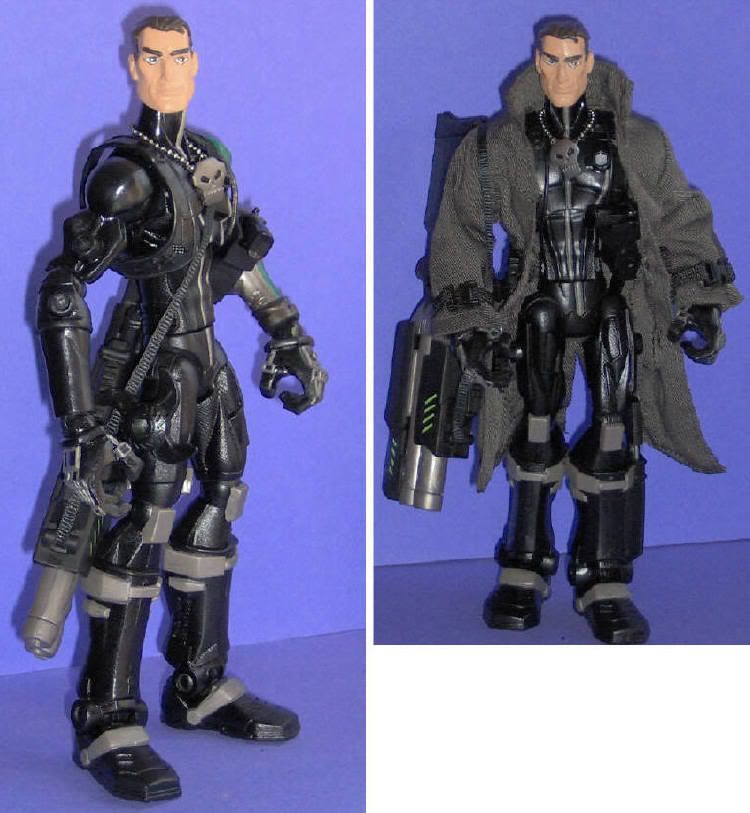 Here's an album link so you can see the WIP with taking off the eyepatch and adding an eye. I also used Lt. Stone's gun to give him a missile launcher and flamethrower.

http://s168.photobucket.com/albums/u164/MacGyvers_Album/GI%20Joe%20Customs/Murdoc/