Some of you know that the car I drive is a dark blue Pontiac Solstice, so of course I was excited when I found out that Jazz's car mode would be one in the movie. My car is not the GXP, but the small subtle differences didn't bother me. Let me know what you think!!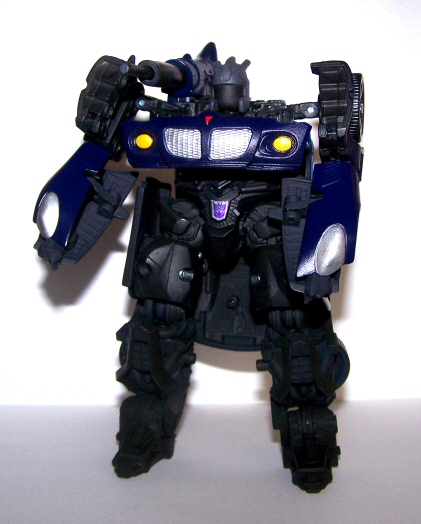 I did the following work to the Transformer:
- I made the trunk/top one section instead of having the division, and I removed the rear spoiler and filled the gaps. Doing this made it unable to give him his "shield"
- I filled in the extra gas lid on the passenger side (there was one on each side, don't know why).
- I removed some disc looking objects from the sides of his feet. I'm not sure what they were and they looked terrible in car mode.
- I exchanged the head with a BAAT (1993) from the GI Joe Star Brigade line.
- I changed the function of the "telescoping sword" to a shoulder mounted laser cannon.
For some images to compare the work, check out this site:
http://tfkenkon.com/g/?mode=view&album=
... 00&start=0
http://tfkenkon.com/g/?mode=view&album=
... 00&start=0